"Exceeded my expectations..."

"Much thanks – the work your company performed exceeded my expectations – it was fast and neat, very non-invasive and did not disrupt anything around my home except to remove the old ugly concrete which I hired you to take away.  Thanks again."
"Saved us countless hours of ineffective hand digging..."

"I truly appreciate the expertise and diligence you bring to the job site. Your team's unique ability, creative methods, and expert results are always a welcome addition to our job sites."
Cincinnati Concrete Contractor - Professional & Innovative
Why Do Residential Property Owners Turn To CreteBusters? Here are 4 Reasons
It's a given to expect "every contractor" to be licensed and insured this day and age.  You also expect the work be "quality", so why consider CreteBusters?
Minimize the damage to your lawn and landscape – We hear it all the time, "I didn't expect to need a $1000 of landscape work done after my project."
Click to Learn How
Minimize the disturbance to your existing lifestyle –  We get it.  While this is just "another concrete job" to us, this undertaking may require you to make some inconvenient changes while it's completed. 
Click to Learn How 
Minimize the time required to complete your project –  You don't want to sacrifice safety and quality.  And you may not be in a rush to start your concrete project, but trust us, once it begins, you'll want it done as soon as possible.
Click to Learn How
Being readily prepared for "unforeseen circumstances" – Sometimes no matter how well you prepare, there are some things you just can't be ready for because all the planning in the world couldn't have uncovered it.
Why Construction Pros Partner with CreteBusters on Residential, Commercial & Industrial Projects
The ability to use less contractors and eliminate some project coordination by using our versatility that can handle a variety of concrete related tasks on any job site.  Concrete Saws, Dump Trucks, Roll Off Trucks, Excavators, Demolition Tools and more all owned by CreteBusters and ready to work on your project.
The ability to deal with the "we didn't see that coming" or "we knew from the beginning this would be tough" jobs. We appreciate simple as much as the next guy, but are ready with specialized equipment and trained staff to maximize efficiency without sacrificing quality.  This is all done while minimizing any scheduling slowdowns.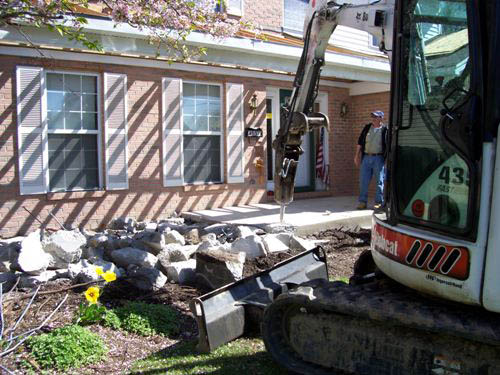 Our methods are executed using a wide array of standard industry equipment, as well as highly specialized equipment that no other contractor in Cincinnati OWNS including:
Excavators
Mini Excavators
Skid Steers
Telehandles
Hydraulic Breakers
Hydraulic Splitters
Tracked Haulers